Oh yes, the sea is not very far and it is into a seaside atmosphere that we invite you in this blue and white coloured  bedroom.
Just like our two other guest houses, you will find all the comfort with a bathroom, its bathrobes and products for bath, a desktop with WI-Fi connection and a TV space.
It offers also a kitchen area with microwave oven and a fridge.
 PRICE  : 100 € inc. Taxes,
Continental Breakfast : 10 €/person (incl. fruit juice, coffee or tea, bread, jams etc.)
Special rates for 3 or more  nights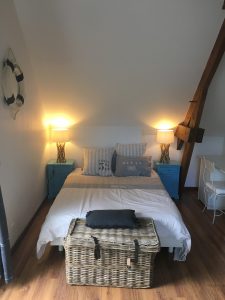 La Mer